The southeastern United States boasts a coastline that stretches for miles, graced by some of the most stunning beaches you'll ever encounter. Whether you're a sun-worshiper, an adventurer, or a family seeking a relaxing escape, the southeastern coast has a beach for every taste.
In this guide, we'll explore the best beaches along the southeastern coastline, and we'll provide you with valuable tips to help you find your perfect seaside paradise.
Tips for Finding the Perfect Beach
Before we delve into our beach recommendations, here are some essential tips to consider when planning your coastal getaway:
1. Determine Your Ideal Beach Experience
Start by considering what you're looking for in a beach experience. Do you crave solitude and serenity, or do you prefer a bustling beachfront with plenty of activities and entertainment? Knowing your preferences will help you narrow down your choices.
2. Research Beach Conditions
It's essential to stay informed about the current conditions of the beaches you're interested in. Check for information on water quality, safety, and potential hazards. Many beaches have official websites or dedicated apps that provide real-time updates.
3. Seek Reviews and Recommendations
Online reviews and recommendations from fellow travelers can provide valuable insights. Websites like TripAdvisor, travel blogs, and social media platforms often feature detailed beach reviews and helpful tips from those who have visited before.
4. Consider Accessibility and Amenities
Consider the accessibility of the beach, especially if you have specific needs or mobility concerns. Look for nearby amenities such as restrooms, picnic areas, and parking facilities to enhance your beach experience.
5. Be Mindful of Weather and Seasons
Remember that weather and seasons can significantly impact your beach experience. Some beaches are best enjoyed during certain times of the year when the weather is most favorable.
Now, let's explore the best beaches along the southeastern coastline, each with its unique charm:
Hilton Head Island, South Carolina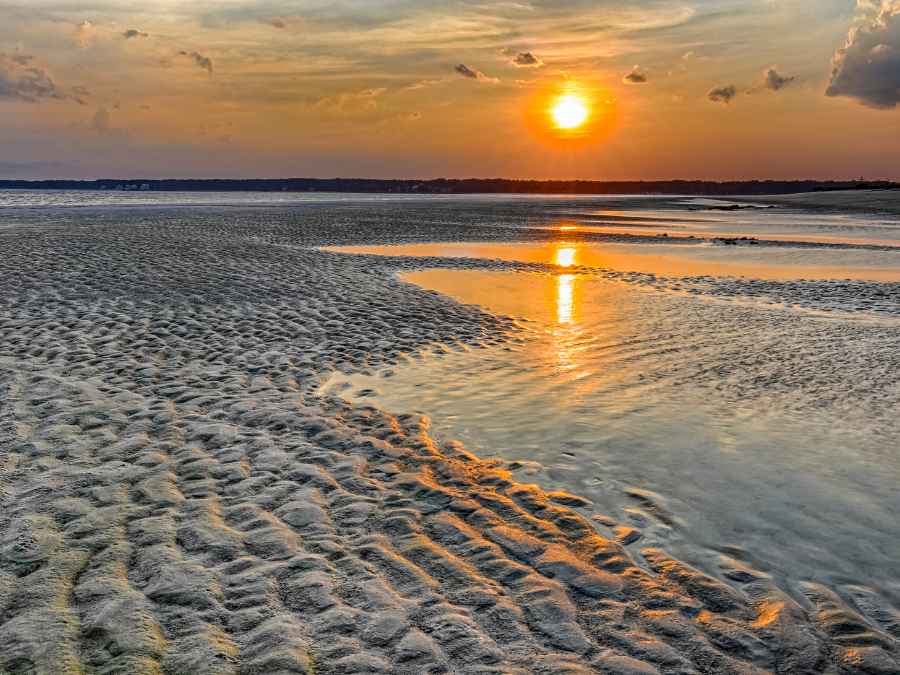 Hilton Head Island, with its 12 miles of pristine beaches, is a beach lover's paradise. Whether you seek the tranquility of quiet shores or the vibrant atmosphere of public beaches like Coligny Beach Park, you'll find your ideal spot here. The island's commitment to preservation ensures that its beaches remain unspoiled and surrounded by natural beauty.
Enhance your Hilton Head beach getaway with an unforgettable coastal adventure that allows you to connect with the mesmerizing wildlife of the region. Dive into the enchanting world of coastal creatures and embark on wildlife tours that infuse your seaside escape with a thrilling blend of discovery and exploration.
Myrtle Beach, South Carolina
Myrtle Beach is a beloved destination known for its wide sandy shores and an array of attractions. Whether you're building sandcastles, strolling the lively boardwalk, or trying thrilling water sports, Myrtle Beach has it all. It's a bustling destination that seamlessly blends the charm of the coast with the excitement of a beachfront entertainment district.
Destin, Florida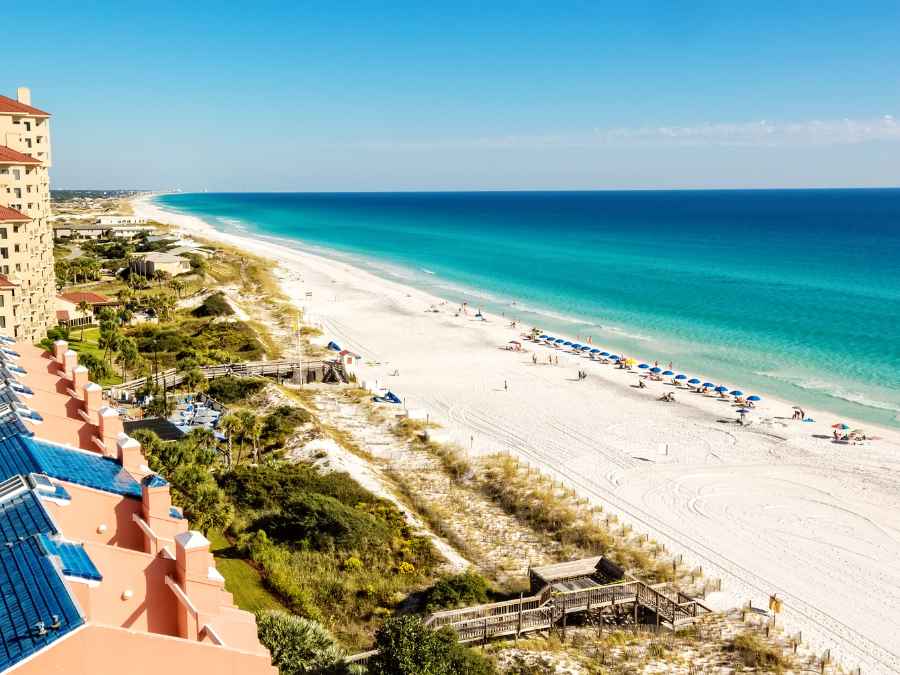 Destin, Florida, boasts emerald-green waters and powdery-white sands. Known as the "World's Luckiest Fishing Village," it's a paradise for anglers. Beyond fishing, visitors can enjoy water sports, explore the stunning beaches of Henderson Beach State Park, or simply relax under the warm Florida sun.
Gulf Shores, Alabama
Gulf Shores is a hidden gem along Alabama's coastline, offering miles of pristine shoreline and a quieter, more secluded beach experience. The turquoise waters and soft sands make it an ideal destination for families and nature enthusiasts. While here, don't miss the opportunity to explore Gulf State Park, a coastal haven for wildlife and hiking.
Outer Banks, North Carolina
The Outer Banks, a string of barrier islands off the coast of North Carolina, are known for their rugged beauty and unspoiled beaches. Whether you're lounging on the shore, riding the Atlantic waves, or exploring historic sites like the Wright Brothers National Memorial, the Outer Banks offer a unique coastal experience.
The southeastern United States is a treasure trove of stunning beaches, each offering its unique allure and charm. Whether you find yourself on the sun-drenched shores of Hilton Head Island, the lively Myrtle Beach, the serene Gulf Shores, or the rugged Outer Banks, you'll be captivated by the beauty of the coast.
Take your beach vacation to the next level with immersive coastal experiences that allow you to connect with the captivating marine life of the region. Immerse yourself in the natural wonders of the Southeastern coast and create lasting memories while exploring its pristine beaches. Let the enchantment of the coast and ocean wash over you as you embrace the unique beauty of this coastal paradise.